Patch Partition Panels
The self-supporting structure allows the integration of individual elements that can rotate freely on themselves, opening and closing as required. The module, in addition to ensuring acoustic comfort, is suitable for rhythming and furnishing workplaces, open spaces, hotel lounges, but also private homes.
The Patch collection of sound-absorbing partition panels is enriched by an innovative and particular declination: the wooden one. The panels are now available in multilayer beechwood, with an oak or walnut finish.
Panel Options
panels are available with acoustic fabrics and also as wooden panels. Please see the datasheet for the standard options.

Base Color Options
The standard finishings for the steel bases are the RAL shown above. Customized RAL/PANTONE colors or chromed steel finishings are available upon request.
Dimensions (cm)
Please see the datasheet for the several different dimensions.
The Patch collection is made to order. Lead time 10-12 weeks.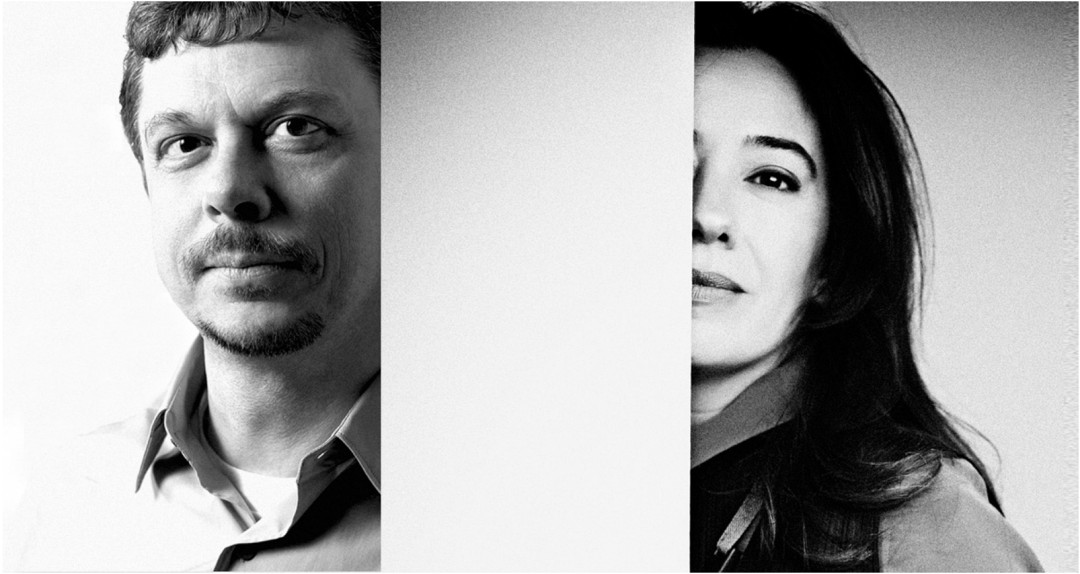 Defne Koz established her design studio in Milan creating bestseller products for Alessi, Fontana Arte, Foscarini, and Leucos and pioneered the design in Turkey working for VitrA, Alparda, Megaron, and Gaia&Gino. Today she is one of the most world-renowned Turkish designers.
Marco Susani is a design visionary who extended the culture of Italian design to new fields like Interaction Design and Strategic Design. He started his career with Italian design guru Ettore Sottsass and worked in Milan at Olivetti, Sottsass Associati, and Domus Academy. He then moved to the US to create the Motorola Advanced Concept Group and later was Motorola's Global Vice President of Digital Design.
Koz and Susani use their design vision as an innovation strategy to explore and define new product and service spaces, often as an embodiment of a corporate vision and a brand. Their studio offering spans from product design to interiors to interaction design, from crafts to hi-tech products, always focusing on high-quality design that embraces vision and innovation while preserving human, and emotional qualities.
Based in the US, they are global and work for international clients while remaining deeply rooted in their Italian and Turkish design culture.
TRUE focuses on the passion for beautiful and well-performed work for the satisfaction of its customers, offering experience, expertise, capacity, and flexibility, to achieve a dream together, to help make spaces more pleasant and comfortable, with products that are durable both for their taste and for the quality of their materials and workmanship, and that are, therefore, truly sustainable.
Perhaps this is why a name has never been more appropriate, because it is the project of a family that means business and that, when it deals with issues relating to growth and trust in the new generations, probably does not even talk about it, but simply takes direct action. TRUE is a joint project: the project of a family that has become a company. Founded in 1983 under the name TMA, an interesting geographical acronym of three towns – Treviso, Monselice, and Asiago – particularly active in the furniture industry and, specifically, in the office furniture industry. The founders' Donatella Brunello and Giuseppe Maniero business and technical experience resulted in a company with international prospects, in which seating for offices, as well as theaters and cinemas, were its only business.
The increasingly high capacities achieved in the upholstered furniture sector and the downturn in the auditorium seating sector led the family to evaluate a new path: the creation of a company that carries forward the expertise acquired over the years, combined with the agility and freshness of a family business which since 2009 also includes the second generation of entrepreneurs, that is young Alessandro, Lorenzo, and Francesco Maniero. By virtue of necessity in that same year, TRUE was founded, an Italian company that creates high-quality furnishings and accessories, able to respond to the changing needs of the market in an innovative and lasting manner, providing a service that can always effectively satisfy customer needs with industrial products which can be customized upon request. The spirit of the brand is contained in a single concise and precise adjective that reflects the values on which its collection is based, characterized by authenticity, practicality, and concreteness.
Each of the company's creations originates from the passion for the work and the profound sense of responsibility of those who work there, in a family atmosphere in which production increases and is developed.
These same adjectives fit perfectly with the coherent and visionary, but also pragmatic, work of the architect Aldo Parisotto, who has been in charge of creative direction since 2014. Parisotto, an internationally renowned architect, co-founder and owner of Parisotto+Formenton Architetti, immediately joined the TRUE family. At the beginning of the new millennium, workplaces ceased to be places of mere production and became increasingly welcoming and comfortable spaces, where one could stay longer in contexts characterized by the need for emotion even more so than the function of the space itself. Enhancing this aspect by freeing space from the rigid dogmas of the architecture of the past was one of the first challenges that the Art Director faced with regard to the TRUE collections.