A modest, uncomplicated design that enhances any environment. The Sans collection is composed of two elegantly simple and minimalist tables. The refined aesthetic of the Sans tables was made possible by using only two solid steel rods for the base and one metal plate for the top. All pieces are welded together, making a monoblock piece. Using solid steel rods and a steel plate together yields a pure minimalist look that blends any ambiance fluently, also creates an absolutely strong table. Depending on the angle, you can view different letters of the alphabet formed by the steel wire legs of these tables. What you see are plain sans-serif letters. The defining characteristic of Sans is the gracefully rounded half-circle part of the base. This semicircle doubles as a handle and increases this table's portability.
Grab it and move around the home or office conveniently, wherever you need. Ideal for indoor-outdoor living. Whether you desire to use your tables out on the patio or indoor as a coffee table, Sans is versatile enough to do it all effortlessly. The tables are available in two different sizes and several standard colors, special order colors available upon request.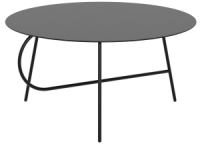 Width 70 cm \ 27.5 inch
Depth 70 cm \ 27.5 inch
Height 36 cm \ 14.2 inch
Weight 14.5 kg \ 31.97 lbs
‍
Base and tabletop both in solid steel painted in polyester powder. Suitable for outdoor use.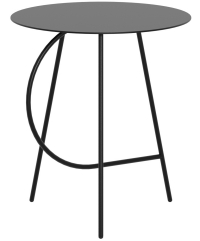 Width 45 cm \ 17.7 inch
Depth 45 cm \ 17.7 inch
Height 51 cm \ 20 inch
Weight 7.2 kg \ 15.87 lbs
‍
Base and tabletop both in solid steel painted in polyester powder. Suitable for outdoor use.
The colors listed below are available in stock in the USA
RAL 9011 Black
RAL 9010 White
RAL 8004 Copper Brown


Simone Viola was born in Mendrisio, Switzerland, in 1985. He studied industrial design in Milan and soon began to collaborate with prominent Italian and international architecture and design studios. In 2011, these experiences led him to open his own studio in Switzerland, specializing in industrial design and interiors. The décor sector became his main area of interest and experimentation, and his personal tastes began to emerge: a strong inclination towards clean lines and artisan workmanship.
His efforts are mainly devoted to an ongoing search for functional simplicity, in which design becomes the expression of a personal style while serving a practical purpose. This confluence gives rise to minimalist, ergonomic shapes, intended to decorate living spaces in a recognizable manner. To this end, Simone Viola personally oversees all the stages of creation and production, scrupulously overseeing every detail in the entire process.
Laminimal is a furniture design company based in Southern California, newly created with an intention to combine the influential and minimalist character of Swiss design aesthetic with the effortlessly cool vibes of Los Angeles, without a trace of superficiality. The aim of this collaboration between Swiss designer Simone Viola and American entrepreneur Joseph Boyraz is to design and create furniture and accessories which embody minimalistic simplicity while well-thought-out details enhance the overall functionality of the design.
Laminimal is the present-day interpretation of the California Cool design movement.
Since the early twentieth century, California in general and Los Angeles with surrounding areas, in particular, has been the vanguard of the contemporary lifestyle. Angelenos realized that advanced technology and innovative use of new materials should give birth to a fresh interpretation of forms in architecture as well as consumer products. From iconic residences to extraordinary public buildings, from futuristic Googie design roadside signages to eye-popping art installations Los Angeles has become a mecca for Modernism.
As Angelenos, we acknowledge this priceless modern heritage and reinterpreted it in our designs. The LA designers who preceded us in the mid-century were pioneers in exploring new materials and forms of their times. At Laminimal we aspire to explore today's new forms and materials of the 21st century and continue the modernist legacy. Laminimal started with a passion to manage the entire process of furniture creation from conceptual design of ideas through manufacturing, every step of the way until packaging and assembly to ensure our furniture exceeds your expectations, every single time. The end result is beyond industry standards: authentic, timeless California cool furniture pieces that are accessible for all those who love design. Our collections of simple and soulful pieces use clean geometric lines to cultivate a strong aesthetic creating energy and warmth in any indoor or outdoor space. Laminimal's mission is to connect you to your home and allow you to create spaces that reflect your spirit.
We love our planet.
We are genuinely aware of our responsibilities as designers and makers.
Therefore, we are committed to making each product with sustainably sourced renewable materials and recycled content. We assess every material for its recycled content or recyclability. Our steel parts are fully recyclable and our powder coating system is environmentally sensitive. We prioritize fabrics made from renewable materials like wool, hemp, cotton, or viscose linen, or 100% recycled polyester. At Laminimal, we build furniture to last longer than the latest viral trends. You should feel comfortable purchasing our designs and know that you won't have to replace your furniture until you actually want to. And we're sure you won't want to.