The Jugo outdoor collection is reminiscent of the Mediterranean laid-back spirit evoking the need for hedonism. The collection is designed to contrast the rational and almost ascetic powder-coated construction made of stainless steel to the oversized wooden armrests and lavish cushions.
The seat and the backrest are inclined at an angle that provides high-level ergonomics in the seating position. The solid wood armrests of both the Jugo easy chair and sun lounger are characteristically wide. Their width almost matches the dimensions of the tray tables that can be used for putting away a glass with your favorite drink. This feature gives the easy chair a very specific, relaxing, and lavish trait. All surfaces for tables and low tables are made from wooden and metal slates, selected as durable materials that mature gracefully. Distinctly accentuated discs on the legs are another characteristic design feature whose function is to ensure various modalities of use on soft or sandy surfaces. The name of this outdoor collection has been inspired by "jugo" – a characteristic wind blowing from the southeast, also known as the wind of 'fjaka' that literally translates to "doing nothing".
| | |
| --- | --- |
| Structure | metal + powder coating |
| Table top | metal plate + powder coating / solid wood + outdoor oil |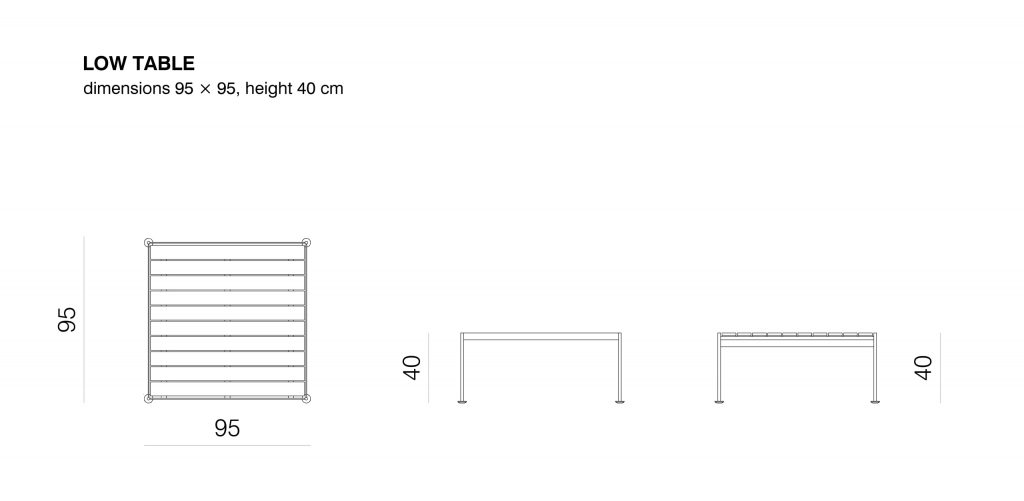 Numen/For Use is a collective working in the fields of conceptual art, scenography, industrial and spatial design.
The group was first formed in 1998. as a collaborative effort of industrial designers Sven Jonke, Christoph Katzler, and Nikola Radeljković under the banner For Use.
In 1999. they establish Numen as a collective identity covering all projects actualized outside the sphere of industrial design.
The group's early enterprises are characterized by experiments with impersonal design and radical formal reduction, deeply rooted in the tradition of high modernism and mainly applied to various synergetic total-design projects in Croatia.
From 2004. onwards, after setting up a large-scale site-specific project for the production of "Inferno" in the National Centre for Drama in Madrid, Numen/ For Use become intensely involved with scenography. Further realizations in theatres across Europe ensue.
Since 2008. the collective turns its focus towards configuring objects and concepts without a predefined function, an activity resulting in the more hybrid and experimental works such as the N-Light series and Tape Installation.
Parallel to these publicly exposed ventures, the group wins several international awards for their accomplishments in the field of industrial and set design.
Prostoria
We tend to perceive furniture as something abstract, created on designers' desks and then produced, branded, and placed on the market by companies with different statuses and reputations. In fact, relations inside the contemporary globalized furniture industry are becoming more and more fragmented with less and less opportunity for complete dedication to synergies and collaborations… Prostoria, as a young company whose catalog already comprises some new icons such as the Polygon armchair and the Revolve transformable sofa, stands as an example of a different and more traditional approach based on the evolution from the local factuality and logical clustering of all actors involved in the production process.
The rapid development of Prostoria, formerly known as Kvadra, a company which has come a long way, from "starting from zero" to positioning itself as the leader and promoter of new ideas in only a few years time, is a story about the reintroduction of continuity both in Croatia and Central Europe, a region with vital but insufficiently recognized design scene and remarkable tradition and knowledge of the furniture industry. Those elements served as latent potentials that provided grounds for continuation and had to be activated.
Since the beginning, Prostoria has been developing an integrative approach, functioning as a collaboration platform that nourishes and stimulates the continuous exchange of knowledge and experience between all the actors participating in the production of furniture. A dynamic workshop ambiance has been created offering opportunities mainly to young designers to explore their ideas in excellent conditions and bring them to the highest level of design, functionality, and technological artisanship. Many products have been developed over long periods of time surpassing a number of iterations until reaching their final form, which would be impossible without adequate support combining contemporary technology and meticulous craftsmanship and handwork of the highest quality. Predominantly local materials are used, especially solid wood, and most of the production takes place within the company itself or in collaboration with local cooperatives.
While the company's catalog also offers furniture based on tested models, Prostoria shows strategic and even passionate dedication to research-based design, convinced that authenticity has its place on the market but presents a special challenge in the times when it seems almost impossible to create truly innovative and fresh concepts. For that reason, Prostoria's social responsibility and specific position have to be observed as a contribution to the evolution of design and readiness to take the risk in order to reach new values for the benefit of users and the culture. Thus, Prostoria stands as a project inside of which designers grow together with the company on the grounds of mutual trust and shared goals.