description
specs
resources & downloads
designer
manufacturer
description
Woodplate Tables | By Mustafa Timur
The Woodplate brings a horizontal section to space. It offers different height options for each top.
With different top options and different legs, you can find coffee table, end table, side table for any entertainment area. While offering a variety of materials and surfaces, with conical wood, conical metal, and multi-layer plywood leg options, Woodplate provides any space with innovative combinations and style.
specs
Dimensions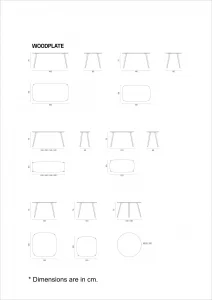 Materials
Wood veneer, lacquer, and laminate top options. 
Solid wood dowel legs. Or plywood legs.
resources & downloads
designer
Mustafa Timur
Young designer Mustafa Timur is an industrial designer who likes to create stories. He encourages us to always be curious about the roots and essence of things and surroundings. This approach helps him enables him to reconfigure the past and future. His coincidental and imaginary approaches result in creating unique and cozy designs. His enthusiasm for blending different cultures and lifestyles helps him to broaden the horizon. Thanks to this broad perspective, Mustafa Timur creates perfect furnishing solutions for today's work or living environments. After strengthening design talents within the academic practices of Anadolu University and Domus Academy, he developed products like furniture, lighting, carpet, games, and toys. B&T, Koleksiyon, Harvard Business Mother and Child Education Foundation are among the brands he advised and worked for. Since 2015 he teaches at the LaSalle Academy in Interior Architecture. He volunteers at many different non-profit organizations such as "onemsiyoruz.org"; Timur has received design awards in many areas such as furniture, packaging, toys, bathrooms accessories etc.
manufacturer
B&T Design
Talip Aysan founded his Istanbul based company B&T Designs in 1993. At the heart of their brand were three keywords: "better", "desirable" and " worthy". They would go on to build them, now, a global company in those words and ideas. The result was a line of instant classics that can be appreciated by any design fan.
High-quality commercial-grade, fresh, minimally designed, very unique line of collection.
Today, B & T exports stunning modern products to over 50 countries including the United States and Canada. Their design team of top Turkish and European designers such as Alp Nuhoglu, Tanju Ozelgin, Sezgin Aksu, Silvia Suardi creates groundbreaking modern designs such as the Green Lounge Chair, Pop Modular Sofa, Pera Chair Range, Absolut Table, Morph Sofa and so on..