description
features
dimensions
resources & downloads
manufacturer
description
Polo Table
Polo Table by B&T Design Team embodies the level of design, materials, and craftsmanship of a modern classic. The tabletop, available in semi-gloss white lacquer, natural wood veneer or laminated wood. The Polo table has an elegant lightness of form that suits interiors both private and public. The central column and bottom plate can be ordered in chrome or black and white static paint. Designed to pair with B&T's minimal design dining chairs, the Polo Table's simplicity of form coordinates with a range of other seating options as well.
It is a convenient table for cafes and restaurants. The uniqueness of this table comes from the beautifully shaped bottom plate. It is square but with rounded corners. Thanks to the diversity of the table, it creates a common answer to the design approach of different spaces. The bottom plate and entire base can be in chrome or powder coated paint. There is also the rectangular version of the table. Rectangular version is sitting on one single rectangular plate with two poles. Polo base that comes in contact with the square foot in a single use, the bottom plates is produced as a single rectangle when used in pairs. It's a long durable product. The square top can be ordered with bar height pole to make a bar table. It is suitable for use where there is a lot of circulation. Round, square and rectangular table tops are produced as veneer, lacquer or melamine.
features
Square, round, and rectangular tabletop options. 
Table Top comes in wood, laminate, lacquer.
The base can be ordered in any standard B&T paint colors.
The base is available also in bar height.
---
dimensions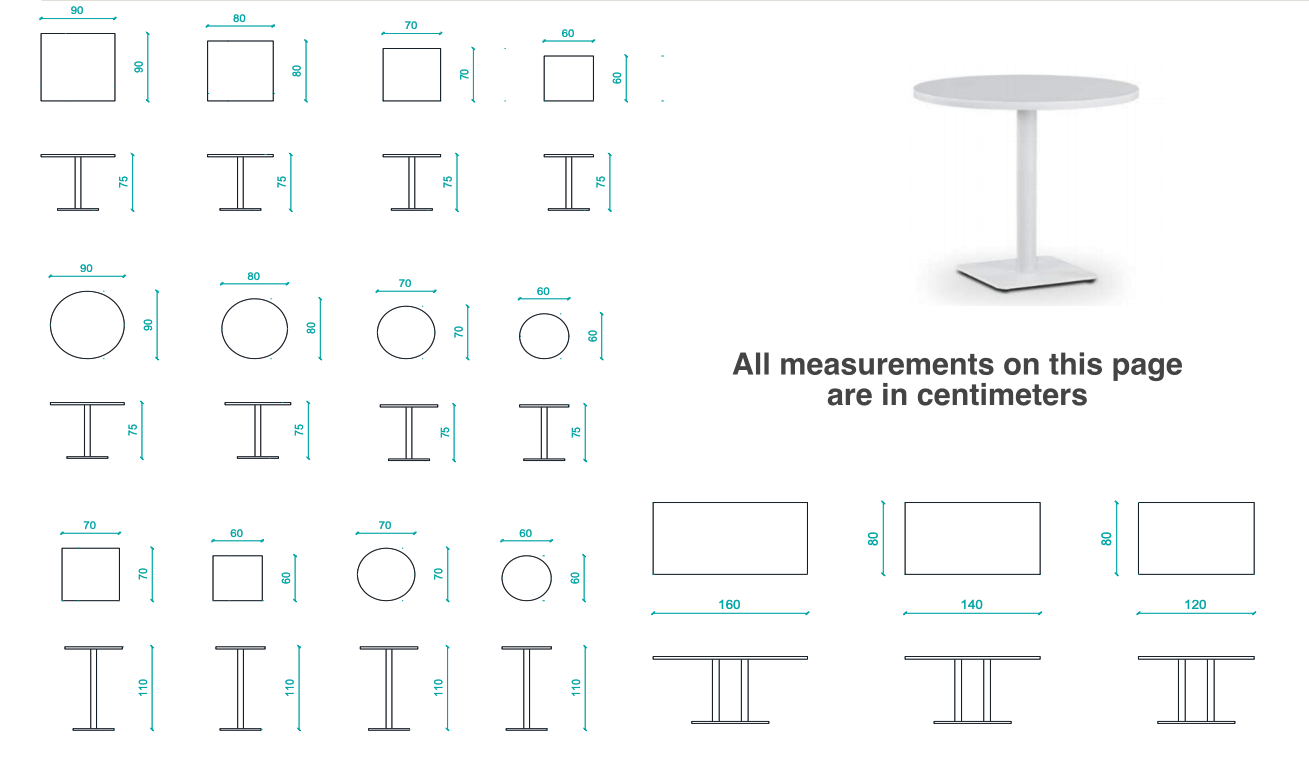 manufacturer
B&T Design
Talip Aysan founded his Istanbul based company B&T Designs in 1993. At the heart of their brand were three keywords: "better", "desirable" and " worthy". They would go on to build them, now, a global company on those words and ideas. The result was a line of instant classics that can be appreciated by any design fan.
High-quality commercial grade, fresh, minimally designed, very unique line of collection.
Today, B & T exports stunning modern products to over 50 countries including the United States and Canada. Their design team of top Turkish and European designers such as Alp Nuhoglu, Tanju Ozelgin, Sezgin Aksu, Silvia Suardi creates groundbreaking modern designs such as the Green Lounge Chair, Pop Modular Sofa, Pera Chair Range, Absolut Table, Morph Sofa and so on..
---